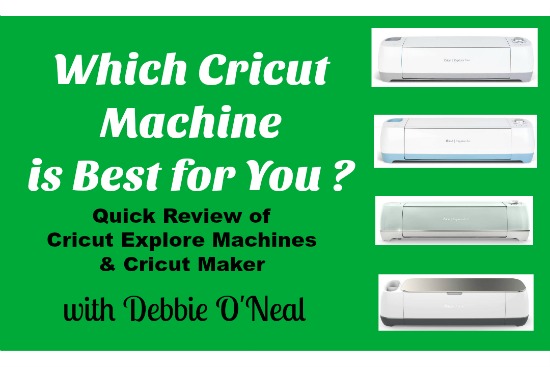 So many choices of Cricut Machines…but how do you know which one is best for you ?  Here is my quick review of each of the 3 Types of Cricut Explore Machines currently available as well as the NEW Cricut Maker machine.  All offer great features and incredible deals during Cricut Black Friday Sales. Shop: http://shrsl.com/nak4   Promo Code: FREESHIPNOV
Watch the video to see the comparison: 
Here is a handy chart to compare the features of each Cricut Machine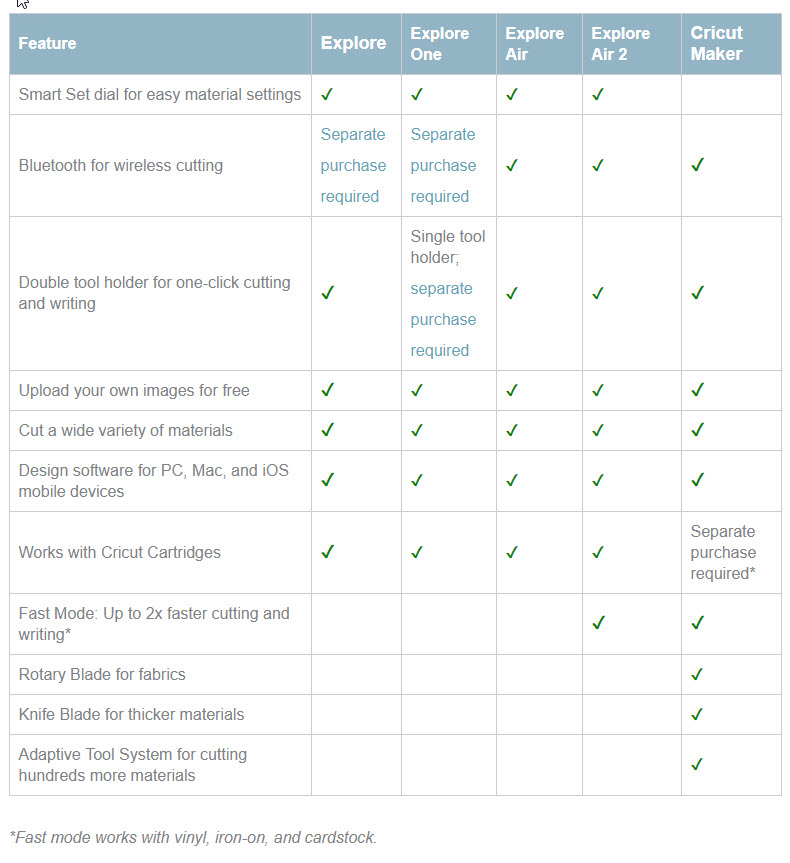 SO HOW DO YOU PICK WHICH CRICUT TO PURCHASE?
Decide what kind of projects you initially want to make. Will you be doing mostly paper crafting and want to use the writing feature frequently ? Select: Explore Air, Air 2 or Maker
Or will Vinyl projects or Iron On Vinyl projects be the thing you see your self doing more ? Select: Explore One, Air, Air 2 or Maker
Or do you plan on cutting various types of fabrics because you sew to want to sew? Select: Cricut Maker
Decide if cutting much thicker materials is important to you…like wood, chipboard, leather up to 2mm  thickness.   Select: Cricut Maker with add-on Knife Blade(available 2018)
Decide if wireless capability is important to you…do you want to use your mobile device with your Cricut machine or  worry about having that extra cord plugged between Cricut and your computer ?  Select: Air, Air 2 or Maker
Decide if speed is important to you…will you be doing a lot of same cuts at one time ? Select: Air 2 or Maker
And finally, Decide how much you want to spend ? Currently, Prices range anywhere from $135 to $400 so there is a Cricut Machine to fit just about every budget ! Best deals are happening now with Black Friday sales.  Shop: http://shrsl.com/nak4  Use Promo Code: FREESHIPNOV to get FREE Economy Shipping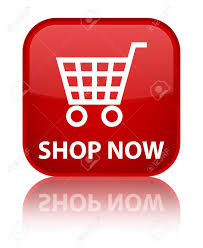 Remember,
Every Cricut Machine uses Cricut Design Space software which is a Cloud Based Solution…which means you access it via your Cricut.com account
Every Cricut Machine does have System Requirements to run…be sure and check that out Cricut Design Space System Requirements.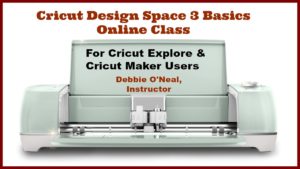 Need extra help learning how to use the Cricut Design Space Software ?  I offer this Cricut Design Space 3 Basics Class for only $25.  5 hours of recorded class videos teaching you step by step to use Design Space.  Watch as often as you want.  Its a great investment in making the most out of your Cricut machine so you can start creating ! Purchase Class HERE.
Leave me a comment if you have any questions about the Cricut machines and I will do my best to answer them for you.  The main thing is…every DIYer and Crafter should have a Cricut Machine to aid them in creating !