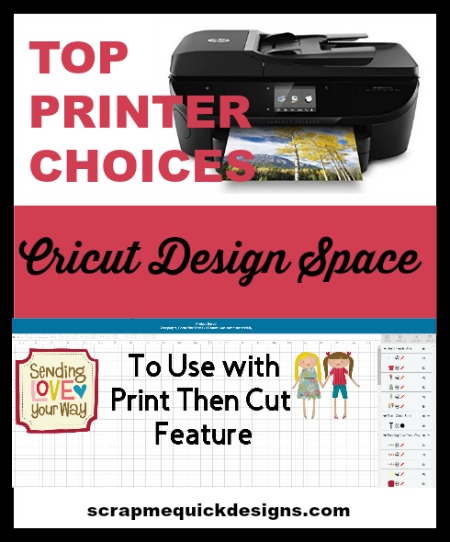 It's time to update my recommendations on TOP PRINTER CHOICES FOR CRICUT DESIGN SPACE for Cricut  Explore and Cricut Maker Users.  I did a review of printers a couple of years ago that everyone found helpful but things change so much it was time to see what else was out there in 2017-2018 that would be perfect for using with Cricut Design Space Print Then Cut feature and other crafty printing needs.
Once again, I did a lot of research including onsite comparison test of various Epson, HP and Canon Printers because they are the best color photo printers. Plus I asked a lot of crafters which printers they were using with success. While there are a lot of other good color printers out there, there are a few that rose above all the others.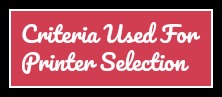 Had to be a WIRELESS PRINTER  – every other device we use is wireless so my printer should be too
Had to have TWO IN PUT TRAYS – one for paper and one for photos
Had to have GORGEOUS COLOR OUTPUT – for both printed images and photos
Had to be able to PRINT FROM ANYWHERE FROM ANY DEVICE –  using either iPAD, iPhone, Android Tablets and phones
Have reasonable INK COSTS – while quality ink is good to have it can't break the bank
Had to PRINT ON VARIOUS MATERIALS – it needed to handle paper, photo paper, cardstock, 110 lb cardstock, sticker paper, printable vinyl and whatever else I wanted to print
Had to be EASY TO USE – I don't have time for complicated when I craft.  I wanted a decent size touch screen control panel to change the output material AND easy set up
Had to have a SCANNER – great for crafty people to have access…auto feeder and fax capabilities were a plus but NOT necessary for my craft printer needs
Had to be UNDER $200 – good quality can be had at a great value…you just need to look for it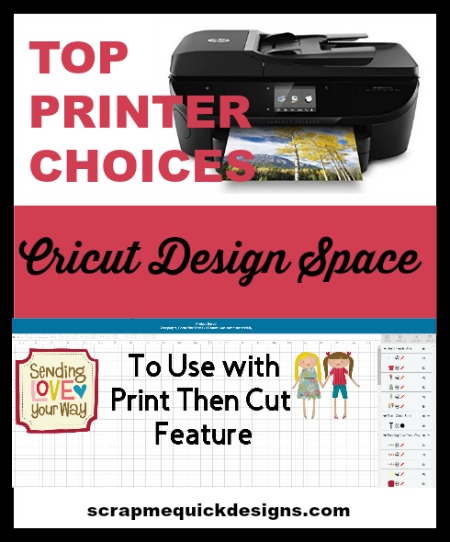 I have selected these TOP PRINTER CHOICES to share with you in 2017/2018 based on my criteria and research. There are two types:Standard Printer Size and Wide Format Printer Size:   
HP Envy 7640 – $103 (Amazon)

     Besides meeting every criteria on my list…this HP Envy 7640 Printer comes highly recommended by other crafters for handling up to 110 lb cardstock and offers beautiful prints and photos. And it is the update to my beloved HP Envy 5660 that I still use and love but now hard to find).  The HP Envy 7640 has a 3.5″ touchscreen and an auto-document feeder tray.  Plus its eligble for the HP InstaInk Program (click link to learn more) that saves you $$$ on ink and is so easy.  And its a super value at just over $100. Perfect for a craftroom printer.
 HP 8720 Office Jet Pro $199 –  This printer also ranked very high in my research. Beautiful color images and prints. It handles heavier paper weights and types. It has a larger capacity paper tray to hold 250 sheets of copy paper at a time (compared to HP Envy 7640 140 sheets). The Touchscreen is bigger at 4.3″. It is considerably faster…24 ppm Black/20 ppm Color VS Hp Envy 7640 14 ppm Black/ 9ppm Color which is great…but it is considerably larger footprint (19.7WX20.9DX13.4H) and twice the price of the HP Envy 7640.  It offers the HP InstaInk Program (click link to learn more) so savings on ink is good too.  If you are running a small craft business from home where you are printing out invoices, labels, instructions, etc.  then this is the one I recommend.
WIDE FORMAT PRINTER RECOMMENDATIONS:
HP Office Jet Pro 7720 Wide Format Wireless Printer $199    This printer met ALL my requirements for a printer…and even fits within my $200 budget.  It prints up to 11″ X 17″ (so while its slightly smaller than other wide format paper sizes, it still is improvement over standard printer sizes).  And it's eligible for HP InstaInk Program too !  yeah…more savings on ink on the long run.
Epson Workforce 7610/7620 Wide Format Printers – $236 (Amazon) While this printer met my criteria, it is slightly over my $200 budget.  But for a Wide-format Printer, it is still the very affordable. It is highly rated by other crafters for dependability to print on 110 lb cardstock and a variety of materials.  It has excellent color prints.  Prints up to 13″ X 19″ and has a   4.3″ Touchscreen.  The ink cost are within a reasonable range.  Now, it does take up considerable more desk space but if you want Wide-Format capabilty that is something you have to compromise on over the smaller printers recommended.
Below are a few more tips I have for you to consider as you select the perfect printer for your needs:
Budget & Function – Set a budget you want to spend which can really help you narrow down your choices to consider. Decide if its a craft printer only or needs to have more capabilities like faxing, speed, etc.
Paperweight – Make sure your selected printer can handle the cardstock and other paperweight you plan to use.  This info can be found in the online printer owners manual.
For instance, I prefer to do Print then Cut on 110 lb cardstock and on printable vinyl, sticker sheets, etc.
Paper Size – Consider dimension of the paper you plan to use.  Most standard printers can print up to 8.5 X 11 or 8.5X14.  Wide Format printers can handle 13″w X 19″h or 11″wX17″h
Give some thought to whether or not you will actually use a wide format printer…they are considerably more expensive to use and take up a lot more space to house
Paper Feeding – Consider paper tray vs manual feed and tray sizes capacity. Make sure printer "folds" the cardstock as little as possible.
Note: If you can't see the printer you are considering in action, make sure you view the online printer owners manual and determine how the paper is fed through the machine.                          Or even see if there is an online video showing the printer in action.
Hope you found these Top Printers for Cricut Design Space helpful. Feel free to share my post with other crafters looking for printers too.  Good luck.  Leave me a comment on which Printer you purchase and why you selected it.  I love knowing what you are using.