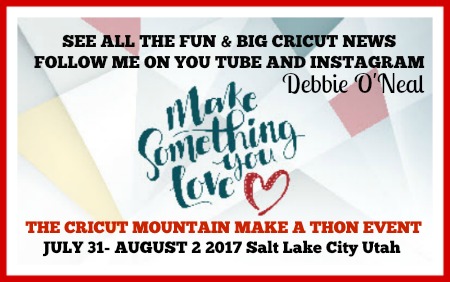 Today I am heading to Salt Lake City, Utah for the Cricut Mountain Make A Thon Event !  I was invited as a VIP guest since I am a Cricut Product Expert.  I am beyond thrilled to be attending.  Cricut has some BIG news that will be released at the event.  Can hardly wait to hear the BIG news on what is coming next !  Plus those attending will get to do lots of Workshops and Make N Take Projects too !  And there are over $500 worth of goodies we will be receiving…swoon !   And a surprise in our rooms each night.
I don't want any of you to miss out on all the fun….so I will be doing YOU TUBE LIVE sessions and posting photos on my Instagram account through out the event July 31-August 2nd.  Come SUBSCRIBE so you can see what's happening along the way !  It should be quite the Par-tay !!!
Note: after you subscribe click the bell icon so you get notifications each time I am going LIVE as these will be random due to event schedule
Event officially kicks off Monday at 4 pm MST with Event Registration, then a cocktail party at 7 pm MST to mingle. I believe the BIG announcement will be Tuesday morning.  And Tuesday night there is a SOCK HOP DINNER that should be super fun seeing everyone all dressed up in their 1950's duds !  Plus a look at all the goodies Cricut will be spoiling us with at the event.
I can't wait to share with you !