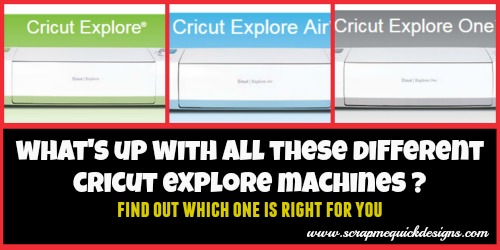 Cricut is at it again…another new Cricut Explore machine will be on HSN on Monday, May 11th.  And its got a clever name…Cricut Explore One.  Why name it Explore One?  Well, you see, it only has 1 carriage instead of two like the other Cricut Explore fleet of machines.  Read on to learn more about the differences in the Cricut Explore Machines and why one might be the best choice for you…an informed consumer is a powerful thing when it comes to purchasing the die cut machine of their dreams, right? 
Lets start with this basic premise…just about everyone drives a car…but they are all different brands or even models within a brand, right? Each Brand has all the same basic features and capabilities…4 tires, a steering wheel, seats, trunk, engine and get you from point A to point B.  But you have choices of with what model you pick and then of what you color you want, what upgrade features are important to you and how much you want to spend right ?  Well Cricut has kind of taken that approach with the Cricut Explore Brand…and offers different models to fit each consumers needs.
Lets Look at the Cricut Explore Brand if you will…
Every Cricut Explore is an amazing die cutting marvel of a machine.  It cuts like no other die cut machine out there…it does intricate cuts perfectly, cardstock cuts perfectly, vinyl cuts perfectly…FABRIC, WOOD, METAL, LEATHER, CRAFT FOAM, CHIPBOARD, MAGNET SHEETS, LABELS, FELT, ACETATE, ALUMINUM METAL, CANVAS, BURLAP…and 50+ other materials all CUT PERFECTLY !   And you don't need to have a degree in craftmathtics to do it.  
Every Cricut Explore has a Smart Set Dial…it adjusts the pressure, depth and speed for the each type of material automatically !!!  Can you believe that?  No joke…it really does.  
Every Cricut Explore machine comes with a German Carbide Blade that wears longer and cuts better than any other blade out there.  And you can purchase replacement blades
Every Cricut Explore machine has on-board tool storage AND has a cartridge port so you can link a Cricut cartridge directly to your Cricut.com Account and Design Space Library.  No more misplacing your most used die cut tools or complicated way of linking your new cartridge to your library to use.   
Every Cricut Explore machine requires the use of the internet and a certain minimum computer system required for it work properly.  You can not currently use it offline.  In this day and age of internet access just about wherever we go, its not a major draw back for most of us.  But it's something to consider before you purchase. 
Every Cricut Explore works with the new Cricut design software….Cricut Design Space.  Its where you design your creative masterpiece with images and fonts to get ready to cut. Its a cloud based solution. Okay Debbie, what does that mean?  Answer: You can log in from any computer via the internet to use Design Space software that Cricut hosts on their servers but you have your own account there where your images and your saved projects live. It's not as scary as it sounds. 
Every Cricut Explore machine gives you access to the Cricut Image Library that allows you to create projects you have never even dreamed you could do. The Design Space Library contains some free images, images you already own and have linked to your Cricut.com account, images you can purchase individually OR you can subscribe to the image library on a monthly or yearly basis. So much flexibility !
Every Cricut Explore machine allows you to upload your own images with jpgs, .gif, .png, .bmp files to create a single layer image AND even .svg and .dxf files to create multi-layered, colored images.  Its fun and easy !  
Every Cricut Explore machine allows you to use the Print Then Cut Feature. You can "flatten" Cricut images to make them printable on your home computer but then cut out with your Explore. Or even upload images you want to print and cut.  It's brilliant and uncomplicated to use ! 
Every Cricut Explore machine allows you to use the optional Cricut Deep Cut Blade Housing to cut thicker materials up to 1.55mm thickness
There's more but enough of the basics of the Cricut Explore Brand… Lets start comparing each of the different Cricut Explore Machines
Cricut Explore – the original with optional Bluetooth Capability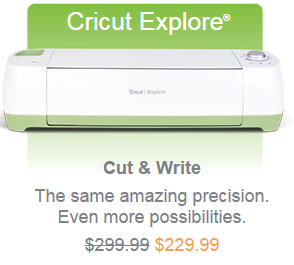 Has two carriage heads so you can cut, score and write all in one step – one carriage is for pens and score tool; the other is for the blade housing
Has a Bluetooth portal so you can add the optional Cricut Bluetooth Adapter so you can send your design wirelessly from your computer or iPAD (with optional FREE Cricut Design Space App) up to about 15 feet away
Has Green trim
PURCHASE HERE @ Amazon (also at select Walmart and Hobby Lobby stores)
Cricut Explore Air – with built in Wireless Capability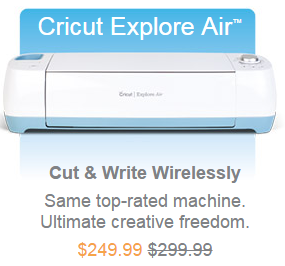 Has same features as Cricut Explore the original
Has built in Wireless that is further reaching than Bluetooth generally can reach…perfect for when you aren't in the same room as your Explore. Note: You still have to go load the mat and push the go button on the machine to cut with either Bluetooth or Wireless.
Has either  Blue Trim (Cricut/Michaels Special) or Purple Trim (Anna Griffin HSN Special)
and that brings us to the latest edition…
Cricut Explore One – newest addition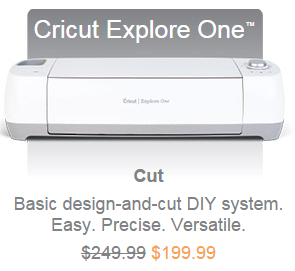 Has only one carriage head – where the blade housing goes
Has optional accessory adapter that you switch out with the blade housing to be able to write or score

Has a Bluetooth portal so you can add the optional Cricut Bluetooth Adapter so you can send your design wirelessly from your computer or iPAD (with optional FREE Cricut Design Space App) up to about 15 feet away

Has lowest price point…great for diyer/crafter wanting the basic Explore capabilities but doesn't need the writing/scoring/cutting at same time feature to start out
Has Grey Trim
So there it is…a fairly easy, I hope so any way…explanation of  the Cricut Explore machine features and what is different between all the various Cricut Explore machines within the Cricut Explore Brand on the market currently as of this writing.  Cricut is continuing to innovate so we can create…I just love that don't you ?  
Now don't forget to watch HSN on May 11th  so you can see the new Cricut Explore One in action…and decide if that Explore fits your budget and needs best.   In fact, you can sign up on HSN to get notified on the two airings using this link  http://www.hsn.com/shop/cricut/3360.
I invite you to join us over at Lets Learn Cricut Explore Facebook Group  (click link) where we are hosting a CONTEST TO WIN A CRICUT EXPLORE ONE  AND OTHER CRICUT PRIZES !  Contest runs May 8-May 11th 
And thanks for sharing this post on your social media sites to help spread the word about the difference between Cricut Explore machines…so many people are wondering about that…lets help educate them ! Happy Crafting 
This post contains affiliate links. Purchasing using these links helps support Scrap Me Quick Designs and allows me to continue bringing you the latest die cut inspiration.