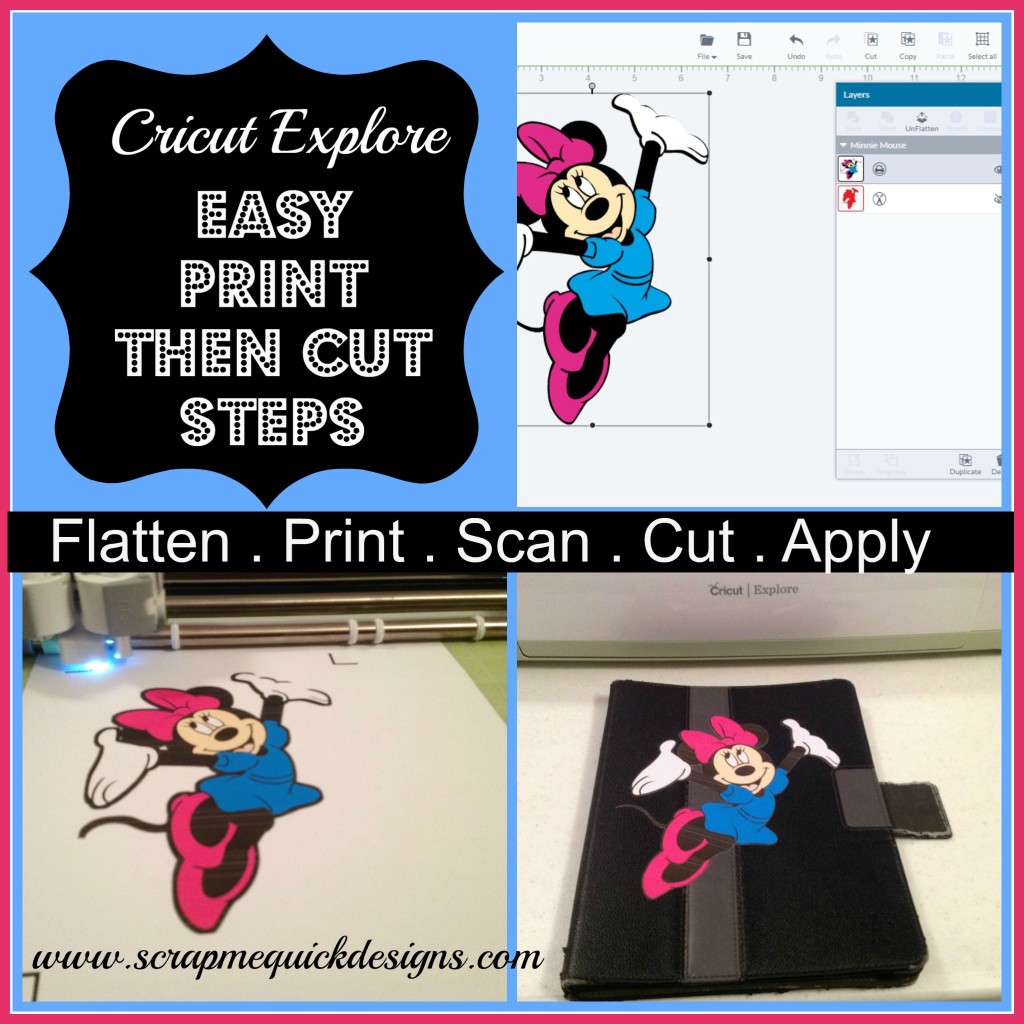 What to Expect from the NEW Cricut Explore Print Then Cut Feature
Ability to use any Cricut Images, SVG's and JPGS by using the new FLATTEN button in the Layers Panel to prepare to print (from your home printer) and then cut out with the Cricut Explore perfectly
Abilty to Print Then Cut  the "Print Ready" images already available in Design Space (without having to use the Flatten button)
Ability to have Print Then Cut be dimensional with options to print and layer layer certain parts of the printed image
Ability to BLEED a color border around your image to allow for more precise cutting edge to edge so you don't see the white cardstock you printed on
Ability to cut on a 8.5″ x 11″ size cardstock (there are plans to expand to full 12"X12" at a later date)   Note: You still put it on a 12X12 Cricut mat to cut even though it cuts from a  8.5″X11″ sheet
 Other CHANGES with the Print Then Cut Plug In Update
You will see these changes on the LAYERS Panel (after you have done the Plug In Update. See my post HERE about updates.

SLICE gives you ability to cut away part of an image and to cut out one image from another image
WELD will now allow you to only join over lapped image
FLATTEN gives you ability to take any image and turn it into a one layered printable image
ATTACH/DETACH has been added to the Layers box so its more handy to use
CONTOUR allows you to remove some pre-designed shapes from Cricut Images
EASY PRINT THEN CUT STEPS: 
Step 1.  Start by loading an image to Design Space Mat.  I used Minnie Mouse from the Cricut Disney and Friends Cartridge.  Notice that Minnie has many, many layers that you would normally have to cut separately to assemble her to use on a project.  Tip: While the image is in this mode, change the colors of each piece to whatever you would want them to print out.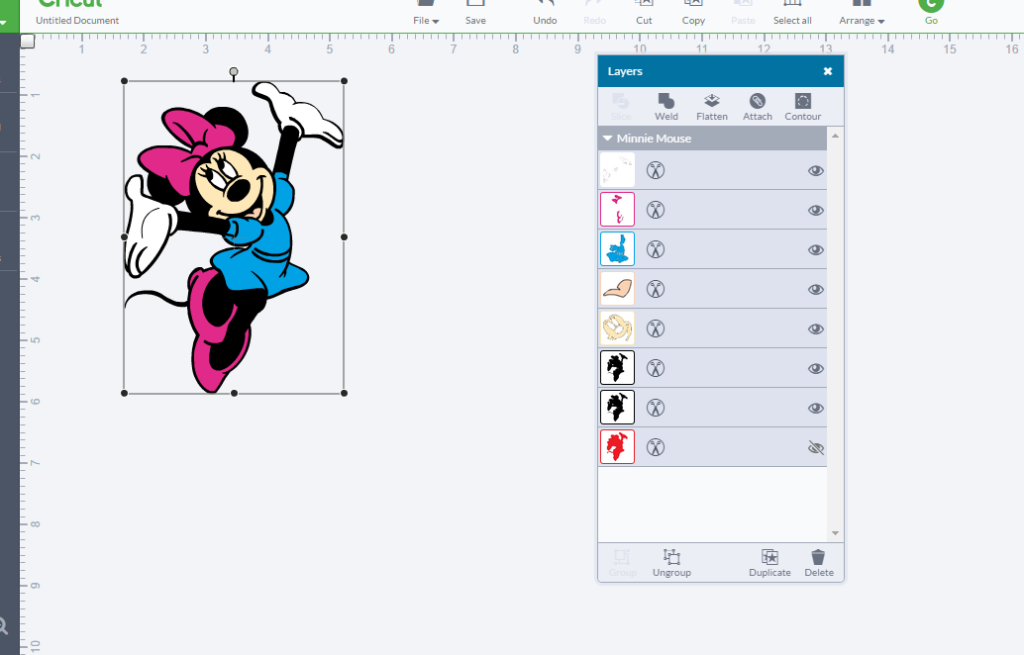 Step 2.  Highlight your image and then click on the new FLATTEN button on the LAYERS Panel. It will then compress all the layers of your image to make it a printable image.  No more layers to cut.  Just a flat image that you can send to your printer to print out. To do that, hit the GO button and it will prompt you to send image to the printer.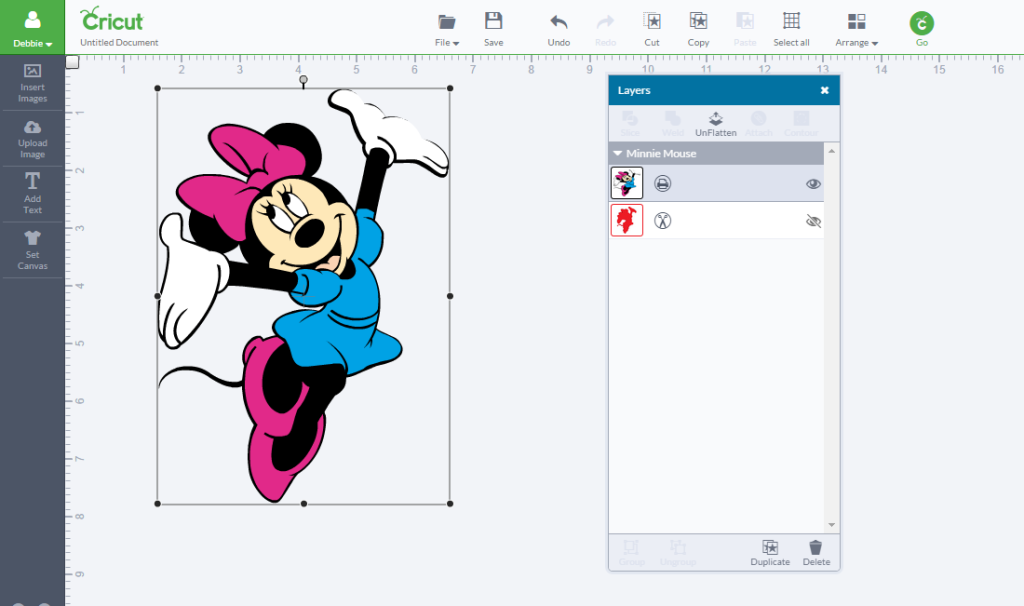 Step 3. As Design Space prepares to send a FLATTENED image to your printer, Design Space automatically has the BLEED feature set as the default. This adds extra ink around the shape of your image so you get a cleaner edge to edge cut. Great for avoiding white edges around your project if printing on what paper. Note: If you don't want this bleed, just uncheck the box each time you use the Flattened feature.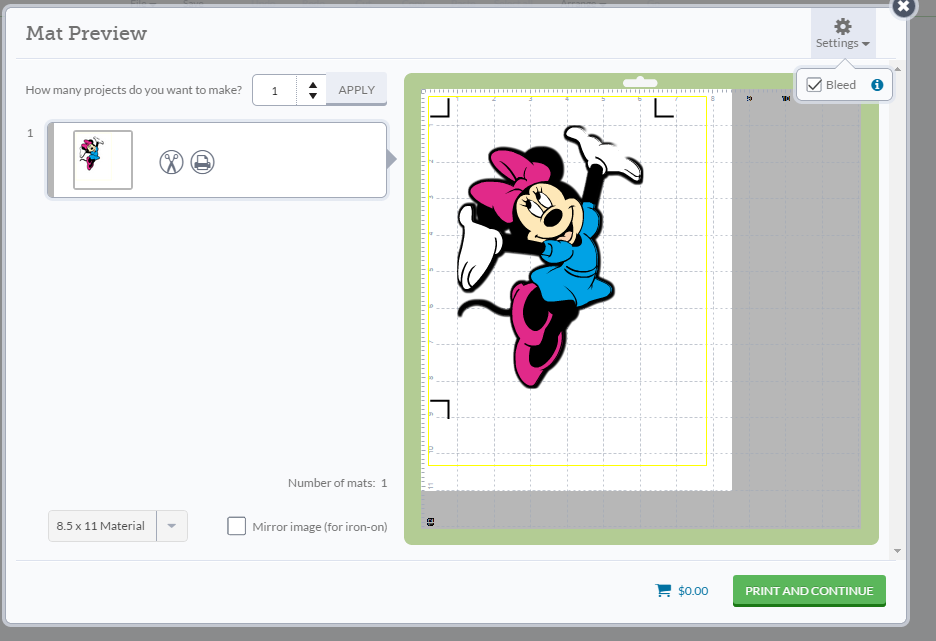 Step 4.  Load the printed image on your Cricut mat by placing in upper left hand corner of the mat.  You will notice that after printing the image, it now has REGISTRATION MARKS around the image which is what the Cricut Explore machine will see to scan and cut around the image.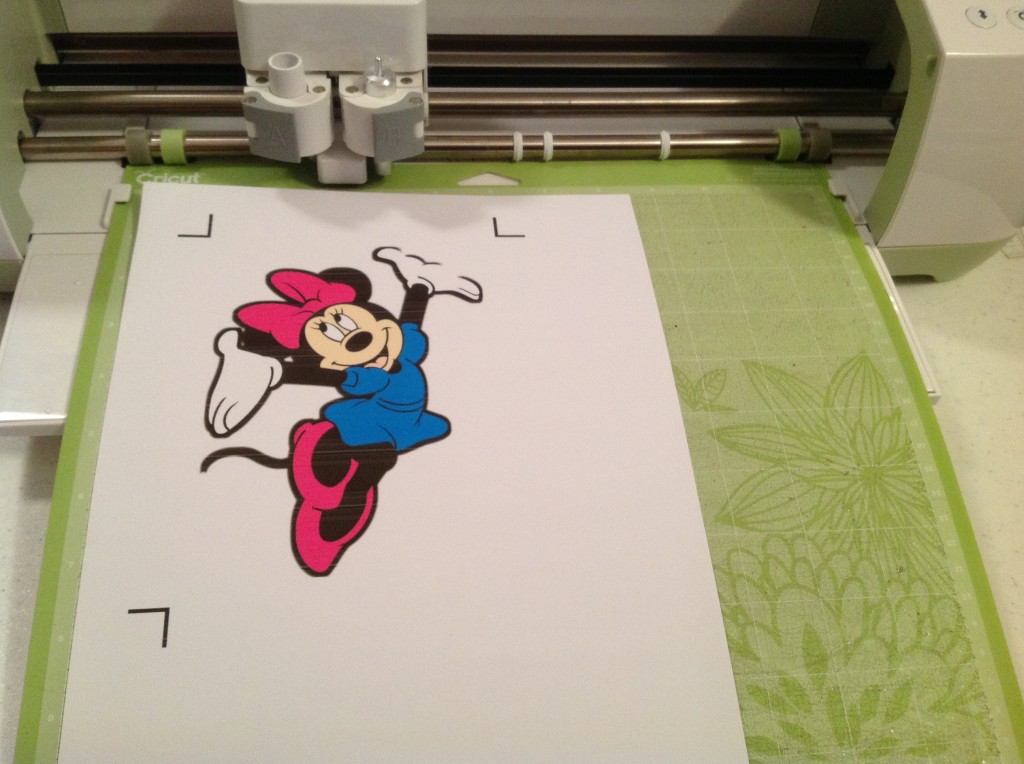 Step 5. The Cricut Explore machine will now scan the image (notice the light on the scanner is now working).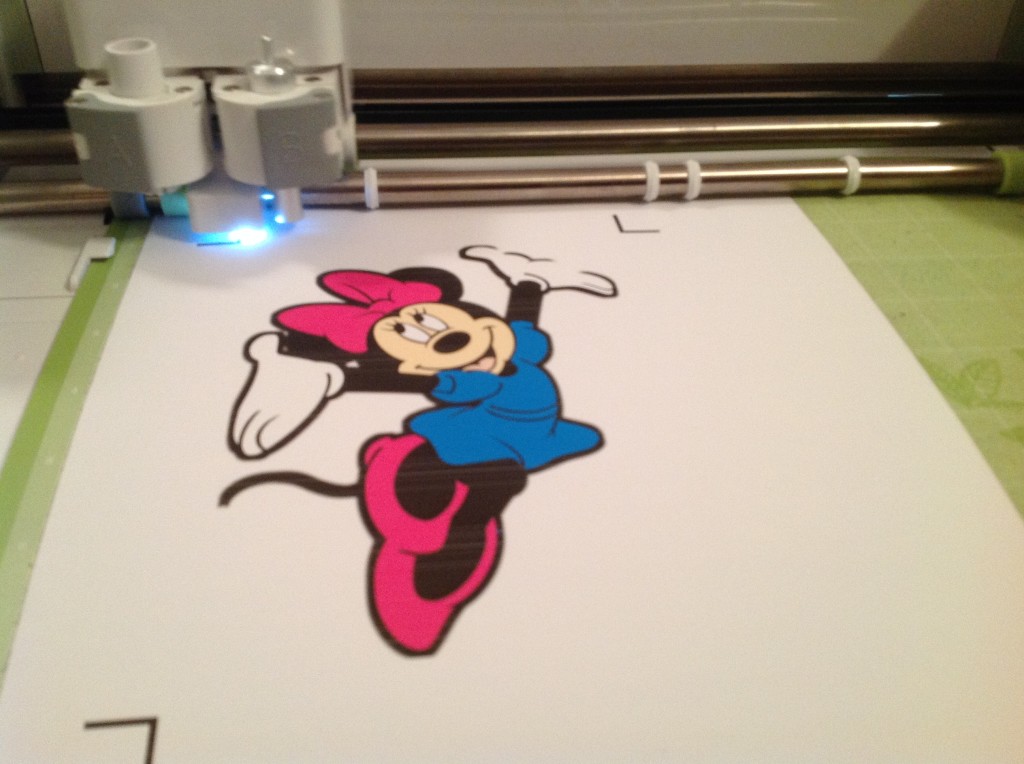 Step 6.  The Cricut Explore will cut around the outside of the image only. Preparing it for your project. Here is the shape cut out and laying on a piece of white paper.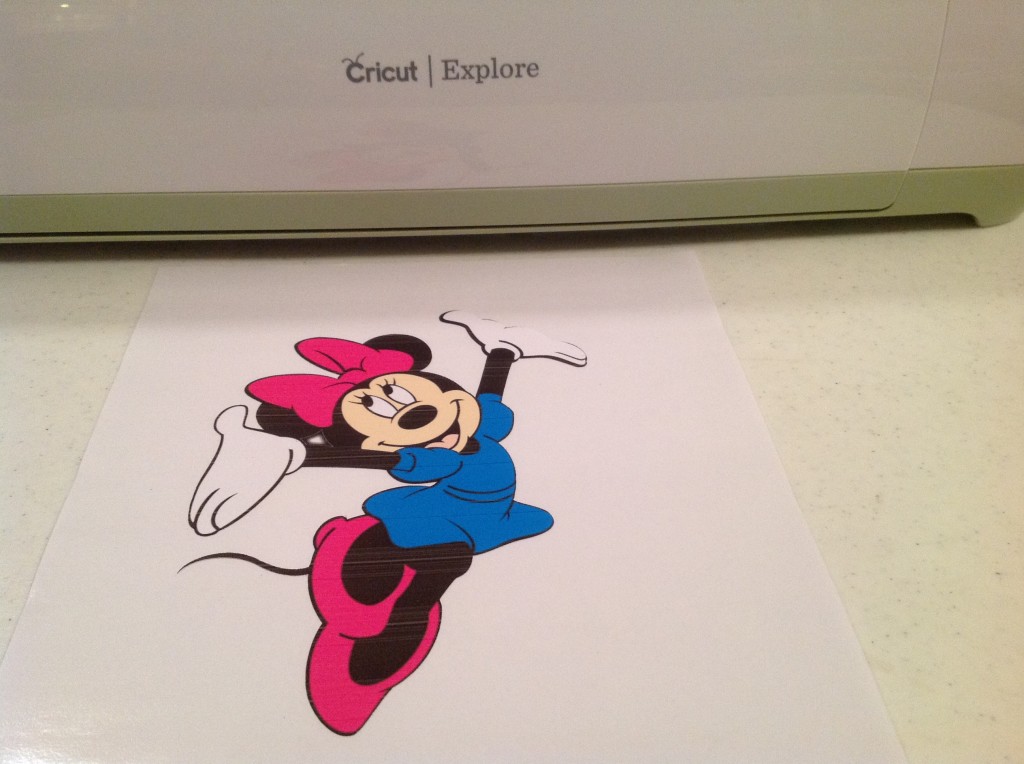 Step 7. Apply your printed image to your project.  Here is my finished Minnie on IPad Project I made using Print Then Cut and the brand new Cricut Explore Printable Vinyl that is coming out soon.  Note: You can print on a variety of materials such as cardstock, printable vinyl and even sticker sheets.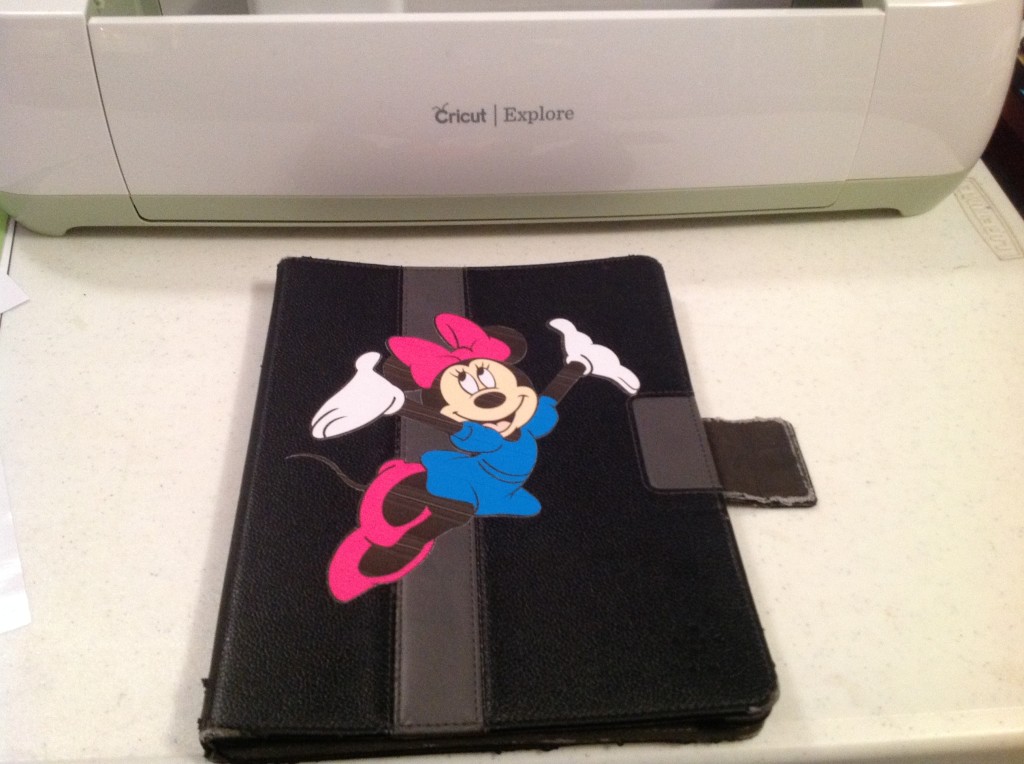 It really is just that easy to do !  Think of all the project possibilities and all the images you will be able to use !
Stay tuned for more Print Then Cut projects I have made to share with you.  Subscribe to my blog and my You Tube Channel so you don't miss anything.  Join us over at Let's Learn Cricut Explore FB Group too !