My hubby and I are "foodies" and love to cook meals together. Over the years we have collected a sizable collection of herbs and spices.  With tall kitchen cabinets, it is sometimes hard to see exactly what we have on hand to use to spice up our dishes. So recently, I decided to take advantage of Square 1 Printable to create a list to post inside my spice cabinets of what we have on each shelf.
I chose to use Square 1 Printable to do this because:
It's easy to apply and keep clean inside the cabinet

It's removable if I ever wants to change it out

It's PVC free so I didn't have to worry about it around the spices
I LOVE HOW IT TURNED OUT…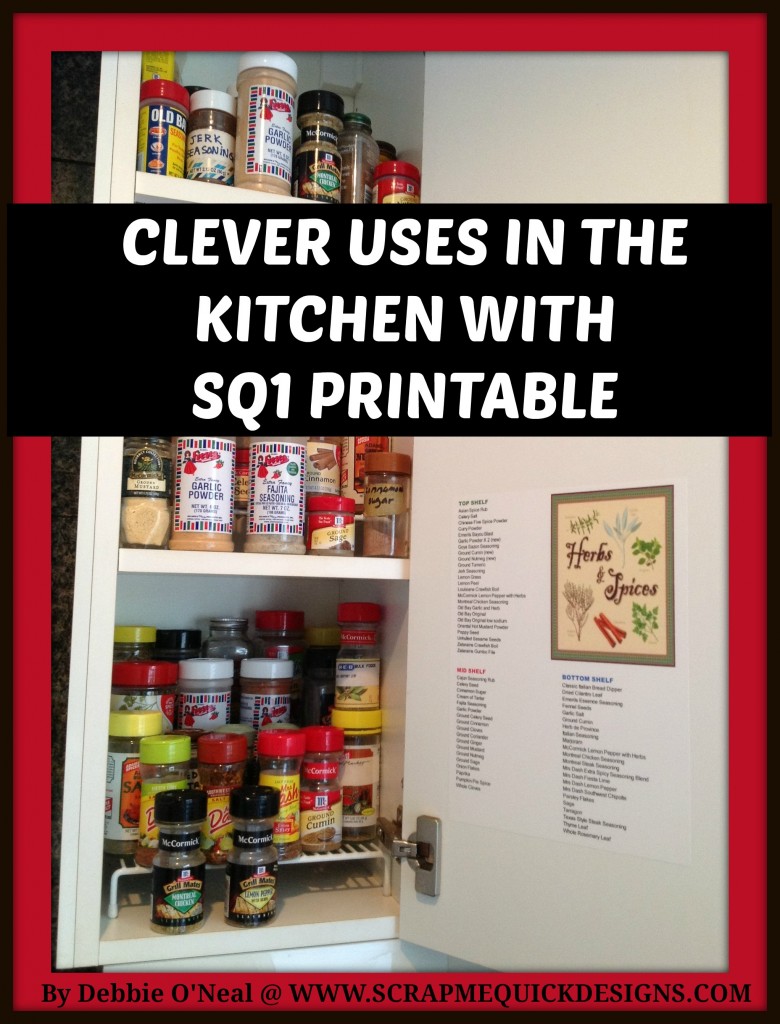 Tutorial: Adding Clip Art to Square 1 Printable Projects 
1. I created a list of spices and herbs on each shelf in her cabinet in a Word document
2. Next, I  did a Google search in IMAGES to find graphics for Spices and Herbs clipart for free.
3. . After scrolling through the images, I selected the perfect  clip art image for my list. And then saved the image on my computer in a file folder.
4. I dded the selected graphic image to a Word Document and lined up each list for the various shelves on to the page as well. Saved the document on the computer in a file folder.
5. I printed out the document on a sheet of Square 1 Printable using an Ink Jet Printer. TIP: Make sure you know which way your material feeds into your printer so you image prints out on the correct side of the of the  Square 1 sheet.  (ie. I have to to place materials in the printer tray upside down so it prints out correctly)
6.  I added the finished Square 1 Project to the cabinet doors. Tips: Make sure and let the ink dry for a few minutes before applying.  Then peeling the backing sheet off, add the top of the image to the surface and slowly rub your hand across the sheet as you adhere making sure there are no air bubbles.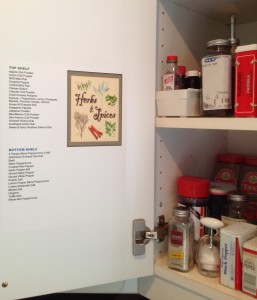 I also made one for my other spice cabinet…yes, we have two ! I told you I needed to have a way to keep track of all these spices.
As many of you know, I am a Creative Team Member for Square 1 Masterpiece. Their Square 1 Printable has so many clever uses that every day I find something else to use it for…and today was no exception.  And at only $14.99 plus free shipping for an 8 pack of 8 1/2″X11″, its an incredible deal too !  You can buy it HERE and I appreciate your using my affiliate link.