As some of you know, I have an 11 year old grand-daughter, Bianca, who has been crafting with me since she was 3 years old.  She even has her own supplies set up in my craft studio for when she comes over.  This girl would rather craft than go to the movies or zoo … with no prompting from me.  Makes this Nonny proud ! 
So today, I want to brag a little about her as she is with me for Thanksgiving week. She came with a project in mind.. MAKING HOLIDAY CARDS FOR WOUNDED SOLDIERS who are in the hospital and away from their families.  Someone at her school is gathering the cards. And today, she wanted to use the Cricut Explore all on her own (well mostly) to create the cards. She had so much fun that Instead of making the 2 cards the teacher suggested they make over the Thanksgiving break, she made 20 cards in about 2 hours and LOVES the Cricut Explore !!!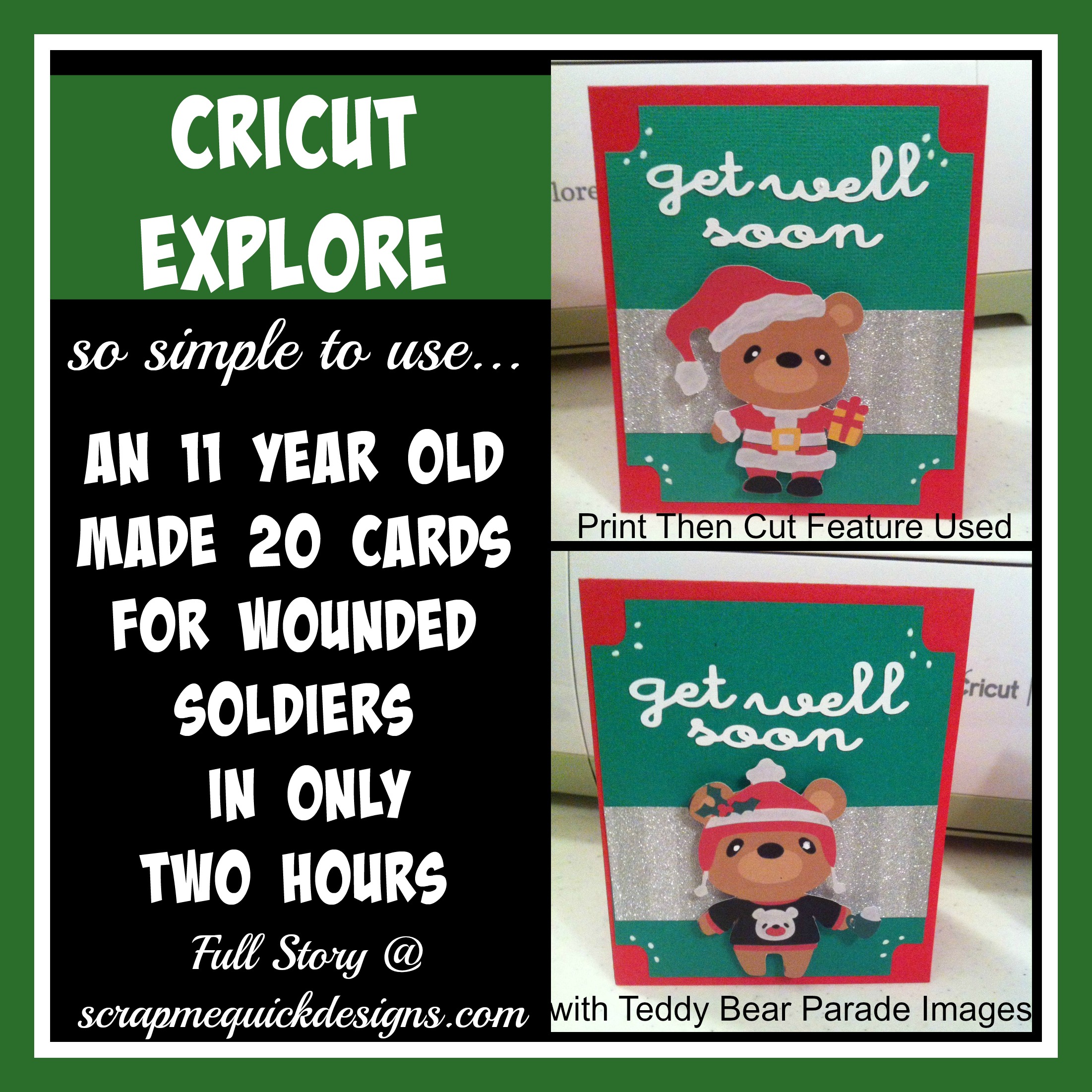 Here is a testimonial from an 11 year old's point of view using the Cricut Explore for the first time who has used other Cricut machines before:
My Question to her: " So what did you think about using the Cricu Explore and how you pick our images to use in Cricut Design Space?"
Bianca's Answer: " It was so SUPER Simple to use the Cricut Explore. I really liked the dials and buttons were easy to understand how to use.  And to do the image search and scroll through to find exactly what I wanted to use was AWESOME !   Getting what I picked out on the mat was easy too. And I really liked using that dragging image feature to size them so I could see what they were going to really look like easier."
My Question to her: "what did you like most about using the Cricut Explore today?"
Bianca's Answer: "I LOVED using the Print Then Cut thing…it was so easy and fast to make those teddy bears (from Teddy Bear Parade Images) for my cards.It was fun changing the colors to what I wanted to use on my cards too.   I am happy I was able to make more cards to share with the soldiers by using it. WHY have we not been able to do this before ???  I could use this EVERY DAY OF MY LIFE ! "
My Question to her: "Was there anything you didn't like about using the Cricut Explore?" 
Bianca's Answser :  "Yes, I don't have one at my house !  Can I have one for my birthday in December, pretty please? My friends and I would have to much fun using it AND we would use it for homework projects too…really we would !" 
So there you have it. Even an 11 year old found using the Cricut Explore to be Simple and Easy to use to create projects.  
If you are thinking of purchasing a Cricut Explore, I don't know of a better testimonial about how easy it is to use than hear it from a kid !   Pssst…I can share the Cricut Explore SALE STARTING THANKSGIVING 11/27 THROUGH BLACK FRIDAY 11/28 PRICING USING THIS LINKhttp://goo.gl/XvSWzl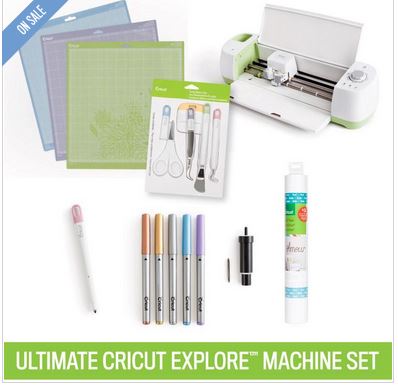 Don't worry about standing in long lines when you can shop from home online,,,the Cricut Explore will be on sale for only $219.99. ALL Cricut Explore Bundle Deals will be $30 off current price listed. Pick the bundle that works best for your needs …there are several to choose from and with the additional $30 off great deals ! NOTE: The sale price will NOT show up in your shopping cart until Thanksgiving Day. But you can see the bundles NOW and PRE-SHOP what bundle meets your needs best and compare to other online deals. You can purchase online on Thursday thru Friday this week. USE FREESHIPNOV promo code to get FREE standard shipping. As usual thanks for using my linkhttp://goo.gl/XvSWzl