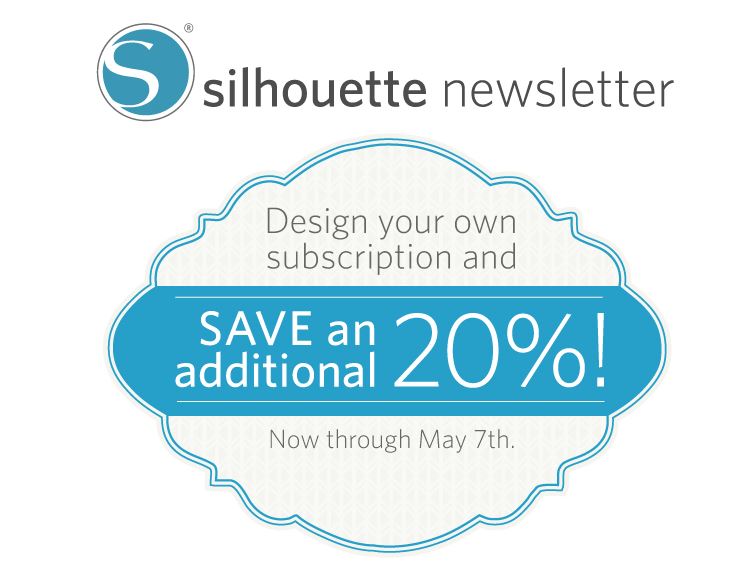 I just got the email from Silhouette announcing their Subscription sale. They only do this a couple of times a year and it SO WORTH IT !!
HERE IS THE INFO THEY SENT:
What are you waiting for?
Have you seen the new subscription plans in the Silhouette Online Store? They're more customizable than ever, so now you can get a subscription for as little as $4.99/month. On top of that, during our subscription sale you can save an additional 20%! All you have to do is use promotional code "CRAFTY" as you sign before the sale sends on May 7th.
Signing up is simple—just decide which subscription is best for you. Each one provides a significant savings over the pay-as-you-go service.
With a subscription, you get designs for a fraction of their normal cost. For example, a Premium subscription purchased using the "CRAFTY" promo code is just $16/month and gives you $150/month worth of download credits to spend at the Silhouette Online Store*. That's nearly a 90% savings! If you don't need that many downloads, there are many customizable options to suit you perfectly. Subscription credits are good toward clearance designs and during sales too, so the savings can really add up.
If you want to surprise someone with a Silhouette Online Store subscription, check out our subscription gift cards. They're on sale too when you use promo code "CRAFTY" during checkout. A subscription to the Silhouette Online Store makes a great gift and is perfect for any Silhouette enthusiast.
I am renewing and upgrading to take advantage of this deal

 What about you?