You know I am passionate about my Cricut Explore. So much so that I started a Lets Learn Cricut Explore Facebook Group (come join us by clicking on the link)  that has grown to well over 7,000 people in it !  And now, I am one of 12 Cricut Product Experts, helping Cricut Beta Test NEW products and features. Its been an exciting year for me so far.
Meeting so many others who are passionate about Cricut Explore has really re-fueled my desire to teach again. Something that I have always been passionate about since I love to share my crafting knowledge with everyone.  I have taught Cricut classes and other crafting classes for over 10 years at crops, local stores and at scrapbook conventions too. It's always a lot of fun to teach and hang out with others who love to craft.
My Cricut Explore followers have kind of nicked name me a "Design Space Diva" so one thing led to another and I am happy to announce…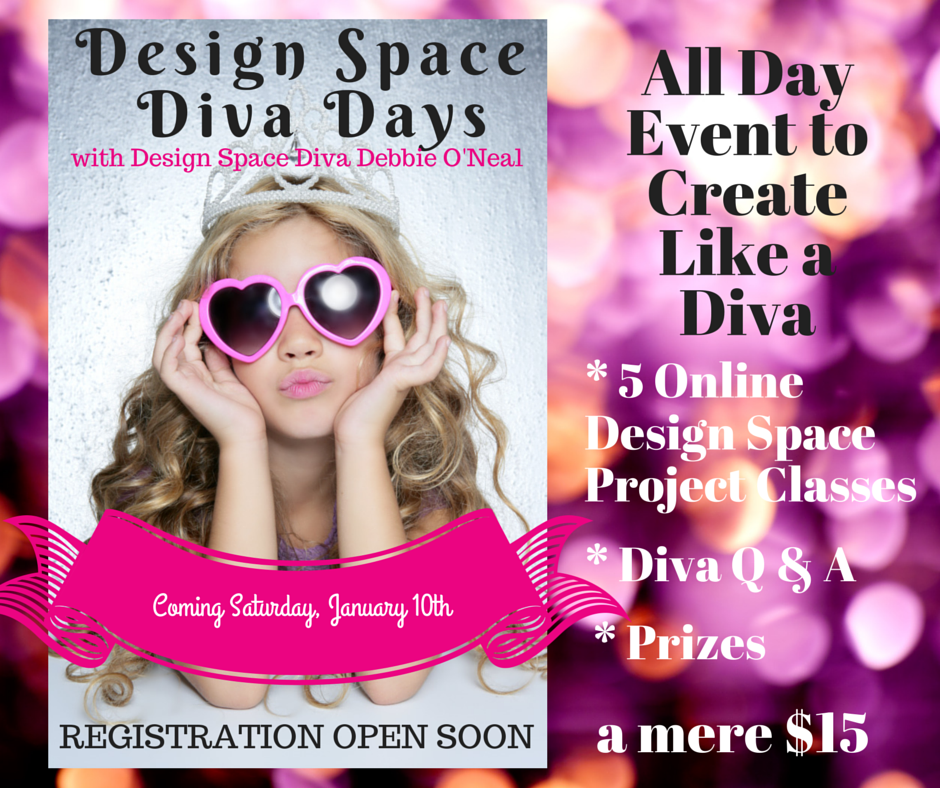 The first DESIGN SPACE DIVA DAY is being scheduled for Saturday, January 10th. Put the date on your calendar now ! Plan to join us so you can  "create like a Diva"  and make 5 different awesome projects using your Cricut Explore machine,. Other DESIGN SPACE DIVA DAYS will be scheduled throughout 2015 with different projects. REGISTRATION WILL OPEN SOON  WITH ALL THE PROJECT DETAILS. 
Each DESIGN SPACE DIVA DAY will include:
5 LIVE online Cricut Design Space Project Classes that include a Design Space File to use for each project to create it. Classes will use a variety of Design Space features and project types and show a variety of crafting skills.    Note: Classes will be recorded so you can play them back or watch if you can't attend the actual event 
A DIVA Q&A Session where you can ask me Design Space or crafty questions and I answer them right then.
A CHAT WINDOW  for you to chat with other attendees through out the event
PRIZES    Events are more fun if there are a few prizes to win !
SUPPLY LIST   A list of  all supplies you need to complete the 5 projects
To participate YOU will need a Cricut Explore machine and a basic knowledge of using your Cricut Explore machine. Of course, I have a lot of Cricut Design Space Videos already online and more added weekly so Subscribe to my You Tube Channel @ Debbie ONeal Videos  for you to watch to help you get up to speed prior to DESIGN SPACE DIVA DAY. 
So, are you excited about DESIGN SPACE DIVA DAYS ? Whose planning on joining in ? Leave a comment if you have any questions.
HUGS TO YOU ALL, DEBBIE