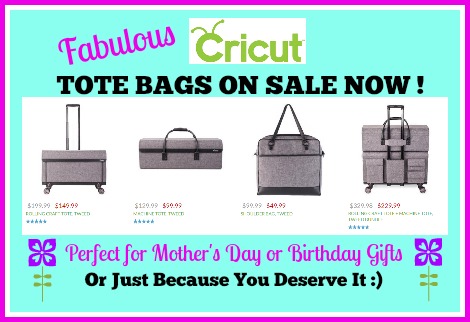 **This post contains affiliate links and I will receive compensation if you make a purchase by clicking on the link and make a purchase. I appreciate you and thank you for your support. **
Cricut recently released some wonderful tote bags to help us with our crafty endeavors…perfect for traveling with your Cricut and supplies OR just storing them away at home. They are very well made and will last. There are three bag types:  Cricut Shoulder Tote, Cricut Machine Bag and Cricut Rolling Tote. There is even a bundle to choose from as well.

And the best part is CRICUT TOTE BAGS ON SALE NOW!  What a great Mother's Day treat for yourself.
Thanks for the support by using my link to purchase.
USE THIS LINK TO PURCHASE: http://goo.gl/1SvwE5
USE PROMO CODE: SMQD (get extra 15% OFF plus free HOME DELIVERY Delivery shipping$14.99 Canadian Priorty Shipping
Want to know more about the new  Cricut Tote Bags ? I did a review of all 3 bags for you. Watch the video to learn more.
So what's your favorite out of the 3 bags?  It's really tough to choose just one but the Cricut Machine Bag is a MUST HAVE in my opinion to protect your machine whether your travel with it or store away at home.  Leave me a comment of what is your favorite.  And again, thanks for supporting me by using my purchase link and don't forget to use the promo code to save you $$$. USE THIS LINK TO PURCHASE: http://goo.gl/1SvwE5
USE PROMO CODE: SMQD (get extra 15% OFF plus free HOME DELIVERY Delivery shipping$14.99 Canadian Priorty Shipping