**This post contains affiliate links and I will receive compensation if you make a purchase by clicking on the link and make a purchase. I appreciate and thank you for your support. **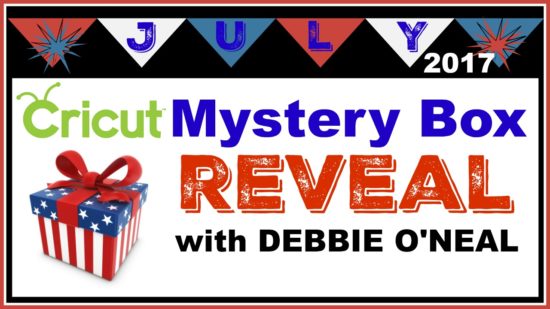 YEAH !  The Cricut July 2017 Mystery Box is ready !  This is one fantastic box full of Cricut supplies at only $29.99 (retail value of $150+).  Use Purchase Link: goo.gl/jm1wKb    Don't forget using Promo Code:  SMQD (saves you extra1  5% off PLUS Free Fed Ex Economy Shipping)  LIMITED SUPPLY TO ORDER RIGHT AWAY !
Wanna see what's inside this Cricut Mystery Box?  Watch my REVEAL Video below:
What's a Cricut Mystery Box ?  Cricut Mystery Boxes are a bundle of Cricut supplies from Cricut at a really great value compared to retail price.  They come out different times once a month.
How Do I Know When to Order Cricut Mystery Box ? As a Cricut Product Expert and Cricut Affiliate, I am lucky enough to get to do a REVEAL of what's inside the box for my followers. That way you know if you want to purchase the box that month.  So make sure you SUBSCRIBE to my YOU TUBE CHANNEL HERE so you get the fastest notification the box is ready for purchase each month !  And of course, I appreciate your using my link to make your purchase.
July 2017 Mystery Box Purchase Link: goo.gl/jm1wKb    Promo Code:  SMQD (saves you extra1  5% off PLUS Free Fed Ex Economy Shipping)