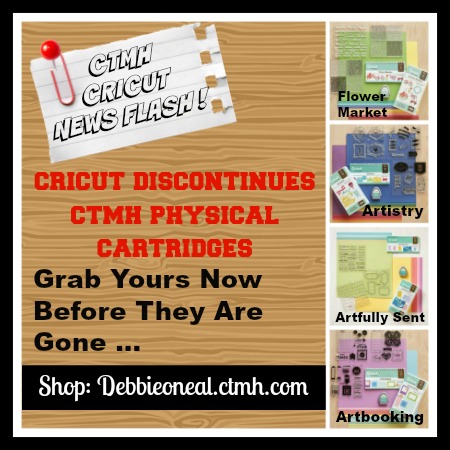 Did you hear ?  Cricut has informed Close To My Heart that they will no longer be making CTMH Cricut Physical Cartridges.  But don't worry, if you act quickly you can still get them from my shop @ https://debbieoneal.closetomyheart.com/
Learn which Close To My Heart Cartridges you should consider adding to your collection by watching the video below:
Close to My Heart Cricut Cartridge Bundles  come with the physical cartridge and cartridge handbook,  3 matching stamp sets and a pack of CTMH Cardstock.  They are only sold in a Bundle and cost is $99.  They are some of the most valued Cricut cartridges because they are full cartridges with 700 images.
Click on the following cartridge images to learn more and/or to purchase.
BONUS OFFER:  With the purchase of the CTMH Flower Market Cartridge Bundle, you will receive an email from me with a FREE Recorded Class to make 6 cards and put together 2 of the 3d Flowers.
Let me know if you have questions about any of these cartridges.  You can't go wrong with any of these…but don't wait too long. These are WHILE SUPPLIES LAST @ https://debbieoneal.closetomyheart.com/