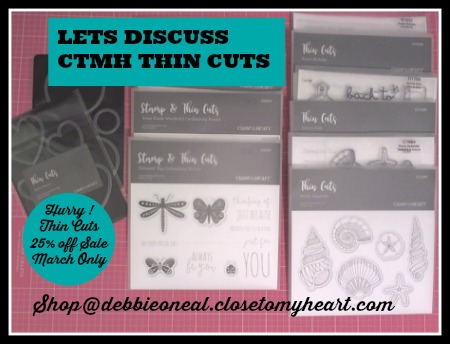 Do you have a Cricut Cuttlebug or perhaps a Sizzix Big Shot or Big Kick ?  Then you are going to be excited about the MARCH CLOSE TO MY HEART THIN CUTS SALE !  GET 25% OFF off all our CTMH Thin Cuts (metal die set) and Thin Cut Bundles (matching stamp and metal die set).  VIEW THIN CUTS HERE TO PURCHASE               CHECK OUT MY SPECIAL BONUS OFFER BELOW TOO ! 
CTMH Thin Cuts give you a fast and easy way to cut all kinds of shapes for your crafting, and this month they are all available at 25% off retail price!
Choose from titles, sentiments, and a wide variety of other metal dies to get precise shapes without any fussy cutting!
This sale also includes four Thin Cuts Bundles not previously offered for stamp sets in our Annual Inspirations Catalog.
This special pricing is ONLY available during the month of March while supplies last, so get your orders in early
What are CTMH Thin Cuts? Thin Cuts are thin metal dies that help you quickly and easily cut shapes for embellishing your cards and scrapbook pages. Thin Cuts are packaged on their own magnetic sheet and work well with most diecutting machines.   SEE  THIN CUTS ON SALE BELOW AND PURCHASE HERE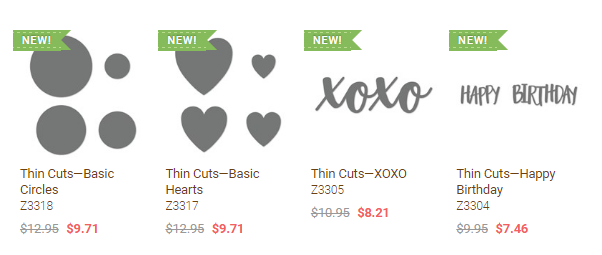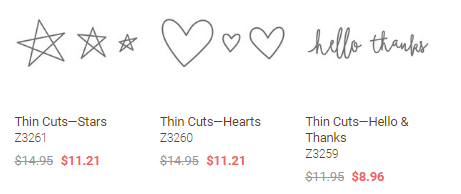 What are CTMH Thin Cuts Bundles? The main difference is that our Thin Cuts bundles include a coordinating My Acrylix® stamp set. The dies in these bundles coordinate with specific images in the stamp set. The idea is that you can easily cut intricate shapes for your stamps with a die instead of trimming them out by hand. PURCHASE BUNDLES HERE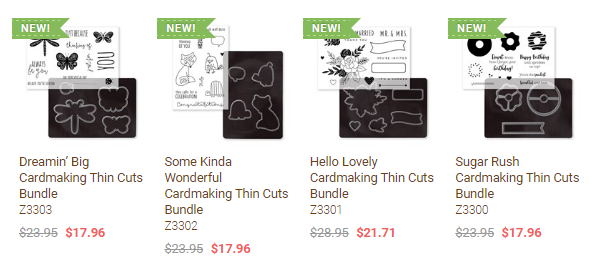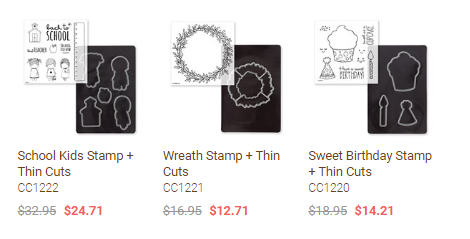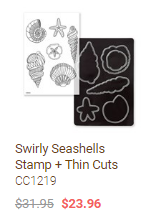 Stamps that now have Matching Thin Cut Dies Sold Separately – So if  happened to have already purchased from our Annual Catalog the following Stamp Sets for School Kids D1706, Wreath A1193 , Sweet Birthday B1532 OR Swirly Shells C1664, now you can purchase the matching THIN CUTS for those stamp sets separately !  Isn't that awesome !  PURCHASE METAL DIES ONLY HERE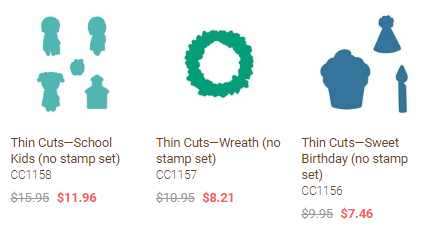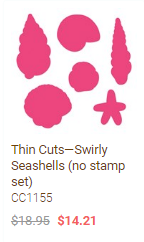 Now is the time to pick up these THIN CUT DEALS this month…but these are while supplies last so don't wait too long to grab up your favorites.  SHOP HERE.
Its easy to use the CTMH Thin Cut Dies and Stamp Set…watch my video below for a quick tutorial.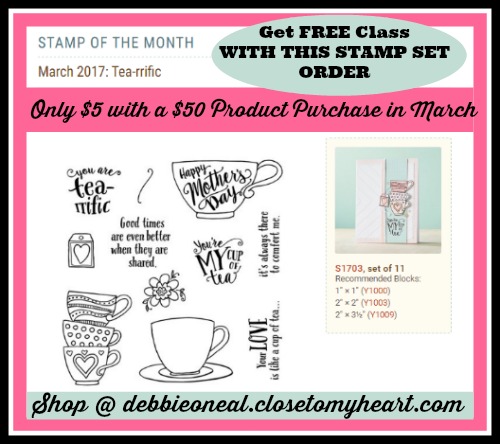 Oh, and don't forget, the MARCH STAMP OF THE MONTH is available now.  If you make a $50 product purchase in my shop this month, you can get this adorable Tea-rrific Stamp Set for only $5.00 (retail $17.95).  BONUS OFFER FROM ME:  If you purchase $50 or more from my CTMH Shop AND purchase the $5 Tea-rrific Stamp Set in March, I will send you via email a FREE RECORDED CLASS ($15 value) using this stamp set to create 4 adorable projects. This class will also include optional water color technique using CTMH Dye Inks
* Class Supplies Required include: the Tea-rrifc Stamp of the Month, CTMH Archival Black Ink , Acrylic Blocks-1×1 , 2×2 ,2×3 1/2,  Daisy White Cardstock, Hello Lovely Patterned Paper, Adhesive tape runner of your choice, foam tape or foam dots.   Optional Watercolor Technique supplies needed:  Whisper Ink,  Sorbet Ink, Sea Glass Ink, Fern Ink, Medium Round Watercolor Brush.