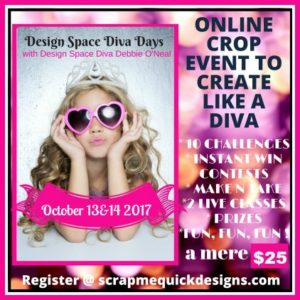 Yipee !!!  It's time for another Design Space Diva Days October 13 & 14 2017 Online Event ! This fun crafting event is exclusively for Cricut Explore Users.  Come together online with other like minded Cricut crafters to create, learn, chat and have fun ! Diva PJ Party kicks off the event on Friday night and all day Saturday we get together for crafting, contests  and TWO Project Classes.  A mere $25 gets you access to this exclusive event. PURCHASE HERE
What do YOU Get @  Design Space Diva Days ? 
Exclusive Access to a Private Facebook Group Event 
10 Design Space Project Challenges with chances to win prizes !
"Diva Scraps" & "Diva Instant Win" Contests with prizes 
Exclusive Access to the Diva Days Pajama Party Kick Off on Friday Night
 Make N Take Project LIVE includes Design Space Cut File
Exclusive Access to TWO LIVE PROJECT CLASSES with Design Space Cut Files (see preview below)
Schedule of Events so you know what is going on when
Supply List in PDF form to print out and get YOU ready for Design Space Diva Days
"How To" Video Section if you need a refresher course on Design Space features
Loads of FUN hanging out with others Cricut Explore Crafters 
ONLY $25…….SPACE IS LIMITED SO SIGN UP TODAY !  

A FEW MORE FACTS BEFORE YOU HIT THE REGISTRATION BUTTON
WHO SHOULD COME?  Design Space Diva Days Online Crop is exclusive  to those who use a Cricut Explore machine and Design Space.  Sorry but all the projects, challenges and games are created with the Cricut Design Space in mind. 
WHAT DATES/TIMES?  Starts Friday October 13 @ 8:00 pm – 10:00 pm Central Time with a Design Space Diva Days Pajama Kick Off Party with overview of the event, challenge list released and a fabulous Make N Take project.  Continues Saturday, October 14  @ 9:00 am to 9:00 pm Central Time with Diva Scraps and Instant Win contests, (2) LIVE project classes, chats, prizes, fun !
WHAT DOES IT COSTS? A mere $25 to get all the fabulous challenges, contests, make n take, how to videos, 2 LIVE Project Classes, prizes and fun….need I say more !
WHAT IF I CAN'T BE THERE THE WHOLE TIME?  Still sign up…Come and go as you can during the course of the event.  You participate in as much as you want, when you want. There are specific events planned at certain times and you can jump in to any of those.  You have a whole week to enter the Challenge contests AND the 2 LIVE classes will be recorded for playback when you have more time!
WHAT DO WE DO? Design Space Diva Days Online Crop is for you to hang out online with other Cricut Explore owners from the comfort of your own home, work on your own projects but with a little "push" in the form of challenges and Diva Scrap contests.  Plus I am teaching (2) Different Project Classes…see below for those…where you will make 2 awesome projects and pick up some new tips using Cricut images.
HOW DOES THIS ALL WORK? After you register, you get an email with the Design Space Diva Manual with all the details of the online event..Schedule of Events, Supply List, Contest Rules, etc.  Next, you will be added to our Exclusive Design Space Diva Days Facebook Event page where all the action will take place. Its where you will find the Design Space files you need for the project homework, "how to" videos, supply lists, etc. prior to the event.  The online crop event is hosted here and is our home base for communicating, chatting, contests and launching to the LIVE Project Classes.  The LIVE Project classes are done on an online teaching platform with a screen for you to see me and a chat area for you to ask questions as I show you how to put together the projects I designed for you.  Its easy…you get a link to click and you are in !
WHAT SKILLS DO I NEED ?   You need to have a basic understanding of how to use your Cricut Explore… I am NOT TEACHING BASICS but will have some "refresher videos" posted of some of the special features in Design Space to help you with the Challenges and Contest we have planned.
WHAT SUPPLIES DO I NEED?  I provide an extensive list upon registration of all supplies you need for each of the projects and make n take plus a general list of things you should have on hand to participate in the contests and challenges.
WHAT CRICUT IMAGES DO I NEED TO CREATE THE PROJECTS? I have designed the two class projects and the make n take project using images that are included in the Design Space Standard Access Library Subscription.  If you don't have the subscription, you could sign up for one month ($9.99)which would be much cheaper than purchasing each image separately.
IS THERE CLASS EVENT HOMEWORK ?  Yes, but its fun homework !  You will need to cut out all the images for each of the projects and make n take prior to attending the LIVE classes if you wish to assemble them as I show you how.  You will get the supply list upon registration.  The Design Space file for each will be available in the Design Space Diva Days Facebook Event page so you have several days to get everything cut out if you want to work along side me during the LIVE sessions.
CAN I GET A REFUND?  Nope. All sales are final as they say.  If you have doubts about attending, then don't register this time around. Ask questions before you register to make sure this is the right event for you.
WHO CAN REGISTER?  For this event I am taking registrations only from those in USA and Canada.  (I might consider other countries later but for now this is it).
HOW DO I PAY TO ATTEND? Click on the pretty pink REGISTER NOW BUTTON below.  I only accept payment via Paypal. You do NOT need to have an account to use Paypal to pay AND you can use a credit card to make your purchase.  No other forms of payment are accepted at this time.
WHAT ARE THE TWO PROJECT CLASSES? Glad you asked…I like to design projects based on the hot topics and trends I see you asking about in the Lets Learn Cricut Explore Facebook Group (join if you are not a member yet).  This Diva Days we will be doing these two Project Classes.
OCTOBER DIVA PROJECT # 1:  CUSTOM ART COASTERS  In this class you will learn how to create some fun custom coasters that you will be proud to give as gifts this holiday season. You will learn techniques using vinyl cut images and alcohol inks to create one of a kind coasters.
OCTOBER DIVA PROJECT # 2:  HAPPY PLACE LIGHTED CANVAS  In this class you will learn how to create a "trendy" project  of a canvas with two types of vinyl and lights added for extra shine. These make great gifts or home decor items. 
If you are excited to attend Design Space Diva Days October 2017 Online Event, then CLICK the pretty pink REGISTER NOW Button ……HURRY !  LIMITED ATTENDANCE. 
REGISTRATION TIP: After hitting the Pink Register Now Button below to go to my Class Store, hit the ADD TO CART BUTTON and NOT the quantity button to place the event in your shopping cart. At top of page you will see a VIEW CART LINK, Click on that and it will show you the Diva Days Event in your shopping cart and you can check out via Paypal. You can pay via Paypal Balance or Credit Card  Option at that point.

PLEASE NOTE: Upon Payment Completion, you will receive via email a Paypal Confirmation AND then another email with a Registration Confirmation that has the link on it to download the Welcome Manual . (check spam folder if you dont see it).
The  Design Space Diva Days Welcome Manual with Schedule of Events, Supply List. Challenge and Contest Rules will be a Downloadable PDF LINK on the Registration Confirmation.
Hope to see you all October 13th at the Design Space Diva Days Kick of PJ Party !  Leave me a comment if you have any questions.