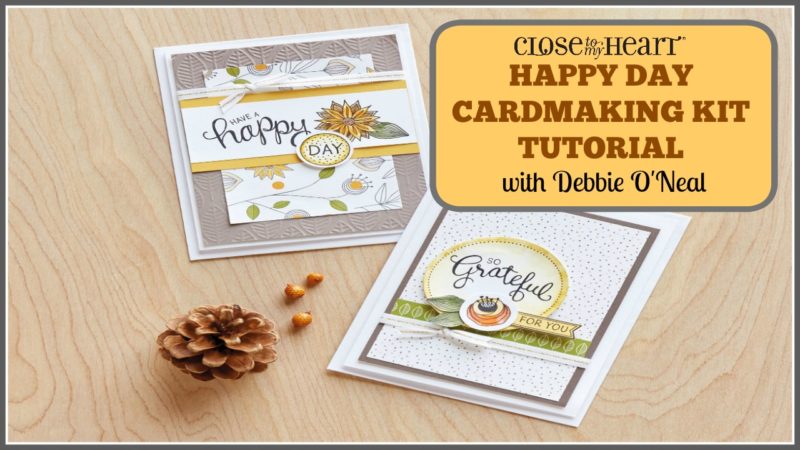 I don't know about you, but I am ready for some cooler fall weather.  But it seems it might be a bit longer before we start seeing that where I live so I am doing the next best thing…Crafting for Fall! Today I want to share a tutorial using a wonderful Close To My Heart Happy Day Cardmaking Kit G1139. Shop @debbieoneal.ctmh.com    Don't forget that every purchase in September from my CTMH shop helps a Hurricane Harvey Flood Victim Family that I am assisting. Thank You. 
This kit makes 12 cards – two of each style.  Perfect for sending friends and family this fall to let them know you are thinking of them.  And when you purchase you can Download the Guide so you have all the directions for cutting the supplies.  (see full supply list below to complete cards as shown )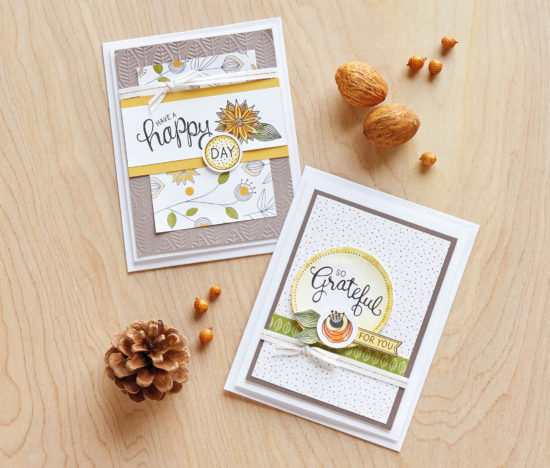 I put together a Video Tutorial showing you how to assemble the two card styles. Plus embossing with Cricut Cuttlebug and tips for using watercolors and/or alcohol markers on stamped images to add the special touch to the cards.  Enjoy !
CTMH HAPPY DAYS CARDMAKING KIT FULL SUPPLY LIST: 
G1139 Happy Day Cardmaking Kit
Z3325 Medium Round Watercolor Brush
Z1836 Non-Stick Micro Tip Scissors
Aren't these just beautiful cards?  Like I mention in the tutorial, sometimes we are so rushed during the holidays that we don't always get around to making cards to send out. But this kit lets you make some now to send out before the holiday rush to let your friends and family know you are thinking of them.  Everyone loves to receive a handmade card.
Thanks for helping me, help a single mother with the 3 kids who were wiped out during the Hurricane Harvey Flood in Houston.  Any purchase you make in my Shop@ debbieoneal.ctmh.com  during the month of September allows me to donate my commisson to this family to help them get back on their feet. There is lots of new products to choose from.