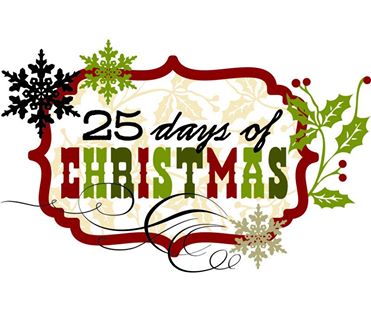 Welcome to Day 21 of 25 Days of Christmas Project Inspiration:
Ugly Christmas Sweater Craft
OMG ! Have you all seen these Ugly Christmas Sweater Parties people are doing?  This is where people bring a sweater and you provide items for them to decorate them at your house on a craft night OR they just wear their Ugly Christmas Sweater to your house for the party. This is hilarious and clever. I think I need to do one next year during the holidays. Have you ever been to a Ugly Christmas Sweater Party or hosted one?
I  figure you certainly can't have an Ugly Christmas Sweater Party without having a contest so you will need to give prizes, right?  How about a gift card….in a super adorable Ugly Christmas Sweater Gift Card Box !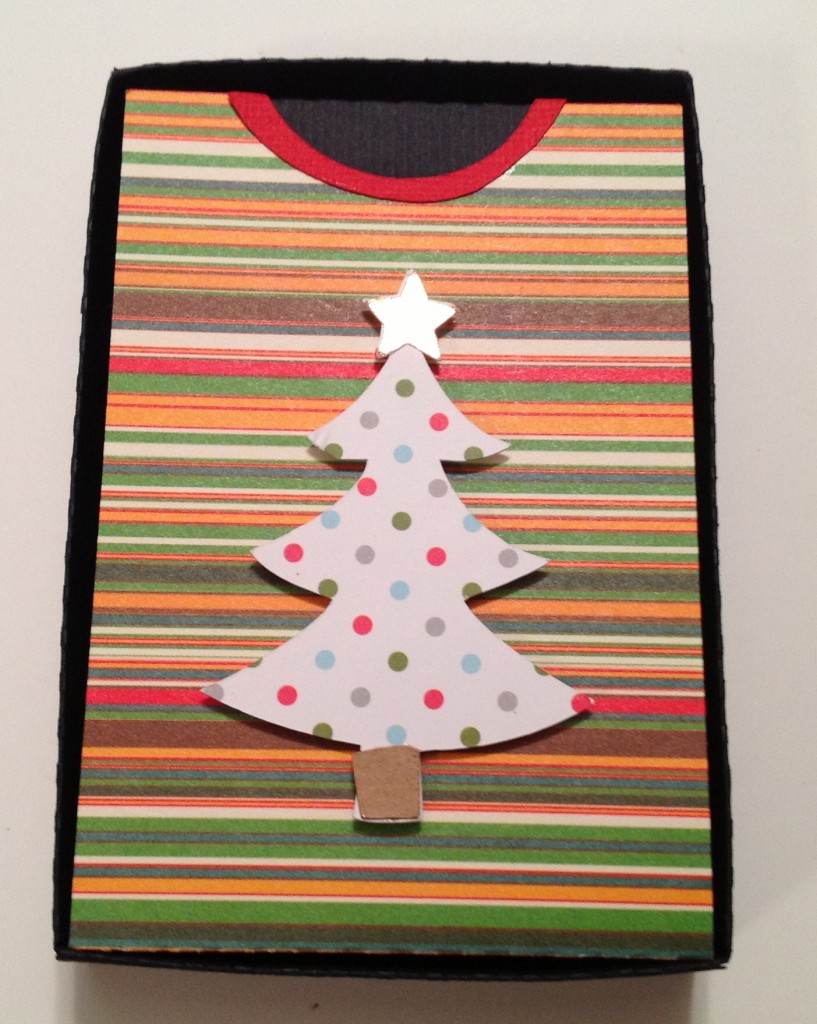 This Ugly Christmas Sweater Gift Card Box by Kristen Magee is in the Silhouette Online Store.
Ugly Christmas Sweather Gift Card Box Quick Tutorial
1. Select the patterned paper you want to use for your Ugly Sweater part of the box and the cardstock you want to make the actual box out of.
2. Cut out the box pieces.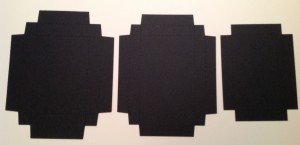 2. Assemble the box. It has a top piece, a bottom piece that fit together and a middle insert that you put the gift card in.  There are handy score lines already on it when you cut it out so easy to fold and assemble using some Scor Tape or other adhesive of your choice.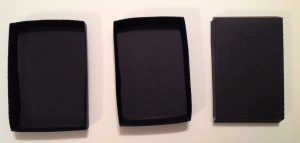 3. Cut out the decorative part of the box…the UGLY SWEATER PARTS !  (Sorry but I just realized I am missing one of the red curved pieces in the photo…you need to cut out two.) Assemble the tree and add the red shape to the larger of the sweater pieces. I used foam pop dots to add more dimension.(this is the flap piece for inside the box)  Then add the other (not shown in photo) piece of the half moon to the smaller of the sweater pieces (this is put on outside of the box cover)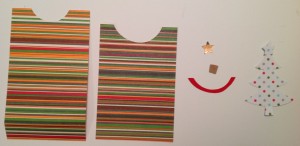 4. Using the box insert piece, add the cut out sweater piece with the perforated bottom on it along one short side of the box insert piece. Just fold along that line and adhere with adhesive.
5. This is what it should look like now that you added the flip sweater piece that reveals the gift card, which is inserted in the piece of the box which fits inside the bottom of the box.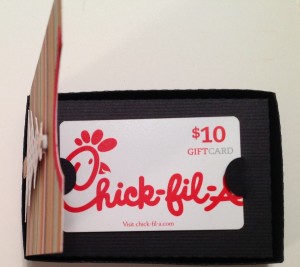 6. Add the top of the box to complete the package and add a ribbon to finish it to give the Ugly Sweater Contest Winner(s).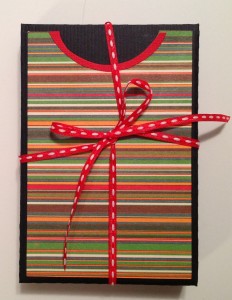 I think my party guest would love to receive one of these Ugly Sweater Gift Boxes, don't you ?  
BONUS: FREE PDF FILE SHARED
In preparation of hosting my own party next year, I found these fun FREE Ugly Christmas Sweater Printables by TheDatingDivas.com (Scroll to bottom of link to find free PDF). It is  includes an invite, party decor, name tags, water bottle labels.
I can't wait to use the Print N Cut Feature to make the rest of the items for my Ugly Christmas Party…who wants to join me in 2014?  You are ALL invited !
I wanted to share a few more fun things I found on Pinterest. Here are a couple of links with tons of great ideas for your own Ugly Christmas Sweater Parties:
Oh My Creative 50 Ugly Sweater Party Ideas
Events to Celebrate Ugly Christmas Sweater Party
Now, where did I put that ugly Christmas Sweater I got in the late 1980's…I think it is still hiding in the back of my closet! LOL 
Don't forget to leave a comment on this blog post to be entered in the Gift Giving Contest (click on link to read the full details of the contest). There are some great prizes to be won !
To see more of Day 21 Christmas Projects Inspiration, check out the other wonderful projects by these talented ladies:
Dana- http://Danascraftycorner.blogspot.com/
Mandy-http://scrappykins.blogspot.com/
Debbie-www.scrapmequickdesigns.com YOU ARE HERE