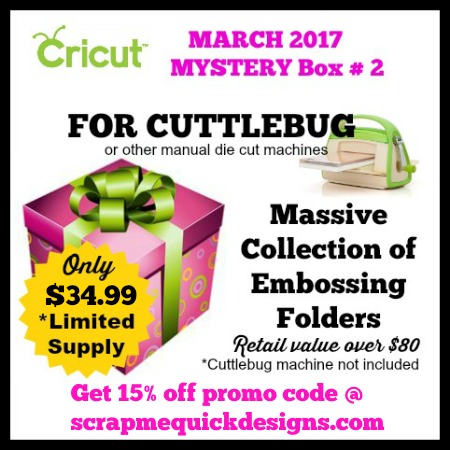 The CRICUT CUTTLEBUG MARCH MYSTERY BOX #2 is now available.  HURRY…SUPPLIES ARE LIMITED !
It's only $34.99 for over $80 retail of Cricut and Anna Griffin Embossing folders. See the REVEAL of what's included in the video posted below.
And the good news is that these can be used in Cricut Cuttlebug manual die cut machines and others like Sizzix Big Shot, etc. 

Thanks for Purchasing using my link @ goo.gl/MNt1cD
Don't forget to use Promo Code: SMQD (get 15% off and Free Shipping in US.
**Canadians need to spend $50 retail to get free shipping and 15% off using the same promo code**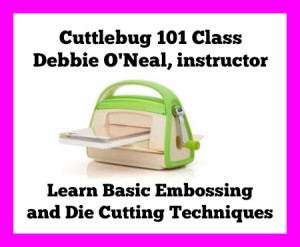 Hey, did you know I offer an amazing Cricut Cuttlebug 101 Class? You learn all the basics of how to use the Cuttlebug with the embossing folders and thin metal dies, tips for getting a good embossed and cut images, various technqiues for using the embossing folders, storage options and more. Its only $15 and is a recorded class you get immediate access to right away after you purchase. READ MORE ABOUT THE CLASS AND PURCHASE HERE.