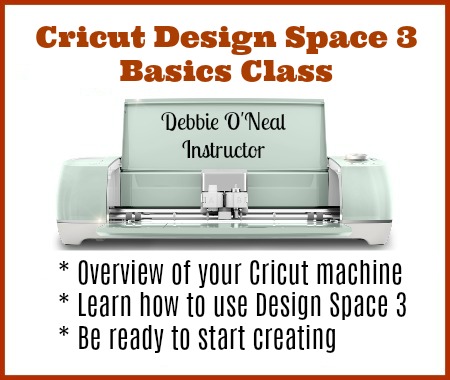 Are you having trouble getting the hang of using Cricut Design Space 3 (the latest desktop version) ?  Or maybe you have a Cricut Explore or Cricut Maker in a box you haven't even taken out yet because you are worried you can't learn how to use the Cricut Design Space software ?  I have an answer for you….take my NEW Cricut Design Space 3 Live Online Class and you will be creating in no time.  Registration is now open HERE.   Only $25 to help you make the most out of your Cricut machine !
CRICUT DESIGN SPACE BASICS 3 OVERVIEW: 
Class Material covered in (2) primary Sessions each 2 hours long and (1) optional 3rd Session 1 hour long specific to Cricut Maker machine
Instruction is held in an interactive LIVE Online Classroom so you can ask questions as we go along
All live classes will be recorded for playback so you can watch as many times as you require
Receive access to a Private Class Page where Class Links and Resources are available
Class Material will cover Cricut Design Space 3 Desktop Version only
Machine Requirements: This basics class is for any version of Cricut Explore (Original, One, Air, Air 2) and Cricut Maker machine users since all use the Cricut Design Space 3 software. There will be an Optional 3rd Session offered specifically for Cricut Maker Users to review the added features of Cricut Maker machine including additonal blade features and fabric cutting capabilities. Everyone taking this class is invited to attend.
OCTOBER LIVE CLASS DATES: 
Tuesday, October 3 2017   8:00 pm CST to 10:00 pm CST (SESSION 1)
Tuesday, October 10 2017  8:00 pm CST to 10:00 pm CST (SESSION 2)
 Wednesday, October 11 2017  8:00 pm CST to 9:00 pm CST (SESSION 3 – CRICUT MAKER)

CLASS SESSION AGENDA TOPICS:
In Class Session 1 we will cover:   
Overview of Cricut Explore/Maker Machines (all types)
Account Management Overview

Calibration
Custom Materials Settings
New Machine Set Up
Linking Cartridges

Design Space 3 Basics

Overview of Mat Screen Layout
Inserting and Finding Images
Sizing Images
Scoring
Slicing
Welding
Attaching
Aligning
Color Syncing
Contouring
In Class Session 2 we will cover: 
o  Design Space 3 Basics (continued)
 Using Text and Adding New Fonts
Writing with Pens
Print Then Cut Basics
Uploading Images SVG files
Using Patterns on Images
Using Make It Now Projects
Saving and Sharing Projects
Basic Tools Review
Cricut Library Subscription Options
Design Space Manuals and Mobile Device App Options
Cricut Support Help Options – Chat, Phone, Email and FAQ's
In Class Session 3 (Cricut Maker – Optional) we will cover:  
Cricut Maker Additional Machine Features over Cricut Explore Machines
Cricut Maker Blades and Fabric Mat Usage Overview
Cricut Maker Fabric Cutting Tips
Cricut Maker Print Then Cut Added Features over Cricut Explore Machines
Don't miss your chance to learn Cricut Design Space 3 and begin creating in time for the holidays !  Only $25.00 and you get forever access to the class videos too. Leave me a comment below if you have any questions about taking the class. Hurry to register, class starts October 2. Hope to see you in class !