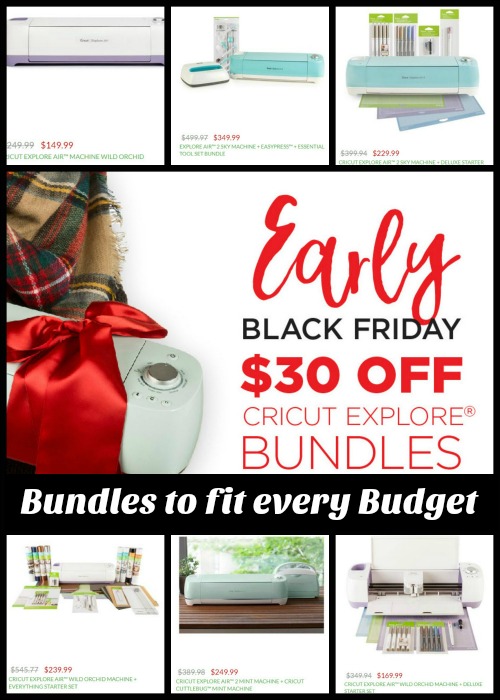 Are you in the market for a fabulous addition to your Crafting/DIY projects ? One of these amazing $30 OFF bundles might be the perfect choice for you.  See them all @ SHOP: http://shrsl.com/nak4   Use PROMO CODE: FREESHIPNOV (free shipping)
There are some amazing deals on all the types of Cricut Machine bundles right now ! There is one bundle to fit every budget. And you don't have to stand in long Black Friday lines to get one.
Below are a few of the bundles I think are worth considering:

Not sure which Cricut Machine would best suit your needs?  Check out the chart below: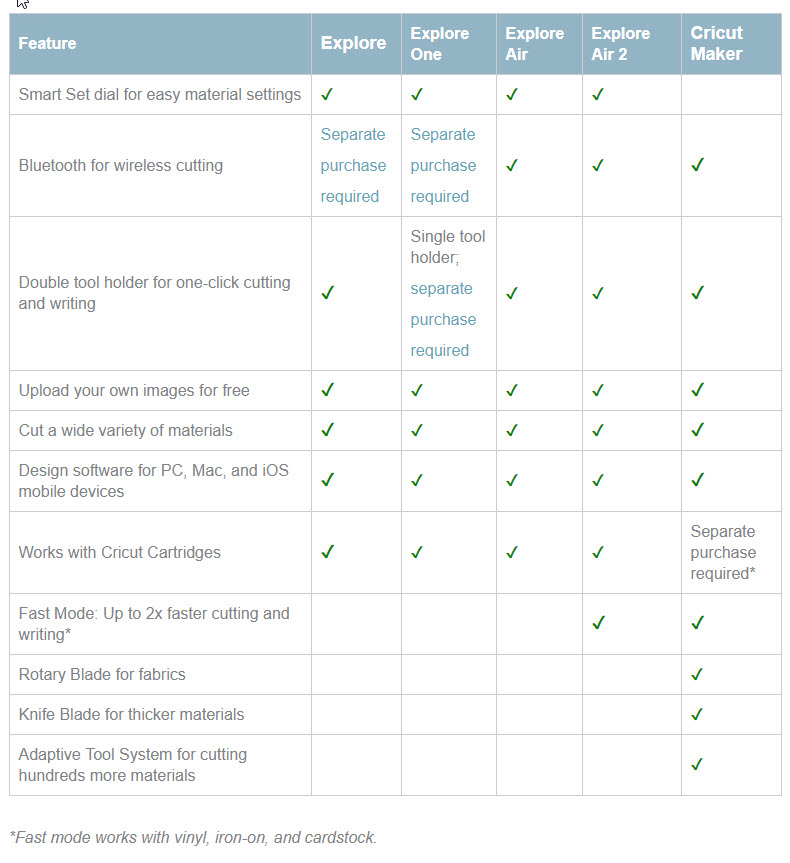 TIPS CHOOSING CRICUT MACHINE BEST FOR YOU
ASK YOURSELF THESE THREE QUESTIONS:
What types of projects and materials do you plan on cutting ? 

Paper Crafters/DIYers might be better off with a Cricut Explore or Cricut Explore Air/2
Vinyl Only Crafters might prefer to use the Cricut Explore One since they dont have to worry about changing out accessory hold to use pen/score blade
Will you be mass producing/cutting images at one time ?  (Business crafter, etc)

Cricut Explore Air 2 and Cricut Maker have an added feature to enable 2x faster cutting using the Fast Mode feature
Do I care if my Cricut machine has wireless capablity ? 

If you don't mind using the connection cable, then wireless isn't a priority for you…so a Cricut Explore or Cricut Explore One might be good choice.                                                                 (FYI – There is a Cricut Bluetooth Device that can be purhased separeately to add the wireless capablity) if your plans change
If you use wireless printers, laptops, iphone/android then plan on getting a Cricut Explore Air or Cricut Explore Air 2 or Cricut Maker as wireless bluetooth is built in
OTHER "CRICUTY" THINGS TO KNOW:
All Cricut machines in the Explore family and the Cricut Maker use the same Cricut Design Space software
All the Cricut Explore machines (Cricut Explore, Cricut Explore One, Cricut Explore Air and Cricut Explore Air 2) all have the same basic features and cut the same materials
The Cricut Maker does everything the Cricut Explore family can do but has an adaptive tool system to use Cricut Rotary Blade Tool that comes with it and optional Knife Blade purchased separately (coming out soon)
 Basic Supplies you will need to begin with your Cricut Explore machine is cutting mats, spatula and scrapper tool….next would be the score tool and deep cut blade housing and pens

Don't forget to use the special Promo Code: FREESHIPNOV to get FREE Economy Shipping on your Cricut Machine purchase
Leave me a comment if you need help deciding which Cricut cutting machine might be better for your needs….But dont wait too long to get a Cricut Machine or Upgrade…this amazing sale only last a few days.