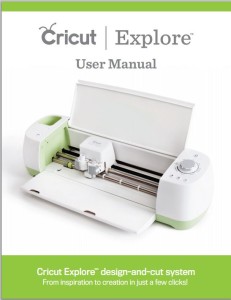 Yipee !  Cricut released a new Cricut Explore User Manual to help customers have a handy reference guide.
I made this quick video walking you through where to find the Cricut Explore User Manual on Cricut.com,what is covered and some tips for maximizing your Cricut Explore experience with it.
The great news is they have made it available as a downloadable PDF as well so you can download to your computer.  I even downloaded to my Ipad so now I have it whenever I need it ! You can find on their website @ Cricut Explore User Manual (click on link).
Tons of step by step information to help you get the most out of your Cricut Explore machine.  Download today to have at your finger tips.  Even if you are still just considering a purchase of the Cricut Explore you should check this out to see all it can do.
SPECIAL TIP:  The Cricut Explore User Manual PDF if about 142 pages.  Some people have taken the PDF on a flash drive to their local office supply stores and had a double sided bound black and white copy made for under $20.  Now isnt' that a fabulous idea !